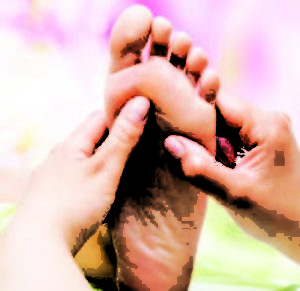 With a focus on wellness, Cory's Hair Studio & Day Spa is adding reflexology to its extensive spa menu, as well as introducing a new licensed medical massage therapist.
Molly Hatch, LMT, combines her resort spa experience with a laid-back demeanor that puts clients at ease. After working two years in Sedona, Arizona—the spiritual mecca for healing and well-being—where she treated clients from all over the world, Molly is back in Northeast Ohio helping Cory's clients connect mind, body and soul.
"I offer all modalities of massage, from Swedish to deep-tissue to prenatal," says Molly, a 2006 graduate of Midpark High School who moved back home with her husband to raise their two young boys. "The most soothing treatment is the hot stone massage, which incorporates lava rocks made from earth elements with minerals that make you feel more grounded."
To offer more wellness options, Cory's Hair Studio & Day Spa now offers reflexology. Based on the theory that there are reflex points on the feet, hand and ear linked to every organ and part of the body, the therapist applies pressure to the feet and hands with specific thumb and finger techniques to relieve tension.
"Not only do your feet and hands feel relaxed, but your entire body will feel more energized after reflexology," says Molly.
Cory's Hair Studio & Day Spa is located at 7216 Pearl Road in Middleburg Heights. For an appointment call 440-888-8864. The salon is open seven days a week.